Is Sports Betting Legal In North Dakota?
Nestled deep in the great plains region, it's safe to say that people don't flock to North Dakota for a taste of busy city life. North Dakota is among the least densely populated states, home instead to great swooping plains, a lot of natural resources and fields of crops. This can get people to thinking there's not enough people in North Dakota to care about a good football game, but people from there know that's simply not true. Despite the great mass of fields and plains, North Dakota has seen some of the most avid sports fans settle in and call it home. It stands to reason then that a lot of North Dakota residents have questions about sports betting, and that's exactly why we're here to help.
The first thing folks from North Dakota usually ask about sports betting is whether or not it's legal. Aside from providing vital peace of mind, legality can offer many things like legitimacy, and a safe place to keep money. Luckily, in North Dakota, it is not illegal to make bets or wagers on sports. This is counter-intuitive considering all the mystery and misinformation surrounding sports betting, and that generally stems from a misinterpretation of state and federal laws. While it is illegal to facilitate sports betting, essentially meaning anyone who stands to profit from wagers on sports without actually participating (bookmakers, business owners, etc.) could face hefty fines and even jail time, the law has no issue with a man who simply wishes to make a bet on a sports event.
There is hope that the state will regulate its own sports betting industry in the future. In 2021, lawmakers introduced ND HCR 3032. It was a bill that aimed to put the issue of regulated sports betting on the November 2022 ballot for ND residents to vote on themselves. The bill passed the state House by an overwhelming margin, but it failed to clear the Senate by one vote. With the interest of lawmakers and with South Dakota opening sportsbooks in the near future, it's safe to assume this topic will come up again in the 2022 state legislative session.
Land-Based Sports Betting in North Dakota:
Land-based sports betting in North Dakota is coming, but not in the way many predicted it to. Unlike most state, legislation hasn't passed that would allow businesses or gaming venues to launch sportsbooks. Instead, the state's tribes took matters into their own hands and will launch sportsbooks at their casinos in the near future. The Turtle Mountain Band of Chippewa Indians were the first to make the announcement that they had signed a deal with IGT Playsports to accept sports bets at their two casinos: Grand Treasure Casino in Trenton and Sky Dancer Casino and Resort in Belcourt. The other tribe to follow suit were the Sisseton-Wahpeton Oyate Tribe who plan on using IGT to run their sportsbook at Dakota Magic Casino and Hotel in Hankinson. These venues are still in development but are primed to launch in the near future. Other tribes may likely do the same depending on the success of these venues. For now, and even after they open, online sportsbooks will be your best bet for fair priced odds and a wide array of sports to put action on.
Legal Online Sports Betting in North Dakota:
Where then is there to turn for a North Dakota resident who wishes to place a bet? Being on this webpage shows your most of the way there. Many great online sportsbooks accepting North Dakota residents as a legal alternative to land based sports betting. You already know that it's legal for you to place bets or wagers on sports, and now you know that since these betting sites operate on foreign soil, they work around the laws and jurisdictions that prevent legal land based betting in North Dakota. There are some who may be nervous at the prospect of trusting a foreign, internet run entity with their money, but rest assured there is no cause for concern. All the recommended online sportsbooks have pages upon pages of client testimony,and have solidified reputations as are successful, long running businesses. Rest assured that they did not gain this status from taking their customers' money lightly.
Bovada Sportsbook - Legal North Dakota Sportsbook That Offers Odds On All Sports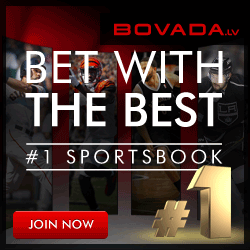 If you're looking for a place to start betting, why not begin with the best? Bovada has long built up a reputation as one of the best sportsbooks, online or otherwise and they are still working hard to improve every day. Don't think it's only other bettors who have stood up and taken notice of the great things going on at Bovada, major media outlets like CBS and the USA Today have taken to citing Bovada over even land based sportsbooks in Las Vegas when it comes time to cite betting lines for a sports story they are running. Bovada is one of the most well trusted sportsbooks running, and the fact you can find their odds in your local newspaper only solidifies that fact.
However, don't fall in the trap of thinking Bovada is all business and no fun. They have shown that they know how to take care of those interested in sports betting in North Dakota. Consider Bovada's new mobile betting app. The bookmakers at Bovada have taken into account that most Americans carry their most powerful computers around with them and have decided to corner the market with the best mobile betting app there is. Now, whether you want to move funds, make a bet, or take part in live betting, it's possible to do from wherever you can get a phone signal!
Top North Dakota Sports Betting Sites
Rank
Online Sportsbooks
Bonuses Offered
Rating
US Players?
Play Now!





What's The Bottom Line? Will I Get In Trouble For Betting On Sports?
Now that you know betting on sports in North Dakota can be not only safe and legal, but a lot of fun the only question left to answer is what's stopping you? Log in, start up an account, and you can be making bets within minutes!